Tales of Crestoria coming west [Update]
Latest smartphone Tales game due out in English.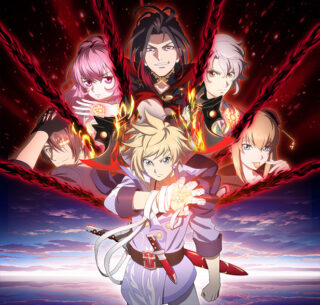 Bandai Namco will release an English version of Tales of Crestoria, the company announced.
Tales of Crestoria is a brand new entry in the Tales of series for smartphones. Unlike previous smartphone titles in the series, Tales of Crestoria features its own original cast and is not a crossover of existing titles.
In addition to the localization news, Bandai Namco also revealed the game's key visual (pictured) and updated the game's official Japanese website with more story details and keywords:
■ Story

(The following paragraph has been added to follow the previously released story blurb.)

In response to Vicious' question, the two resolve to face themselves and live with the burden of their sin. With the new power of "Bloodsin" at their disposal, they look for a place to rest and begin a new journey alongside Vicious.

■ Keywords

Mark of Sin

A mark appears on body part of those acknowledged as sinners. A person branded with this mark becomes a "criminal," who are chased down by Enforcers. The positioning of the mark differs depending on the sin itself.

Mark of Bloodsin

When a criminal resolves to carry the burden of their sin, and overcomes Vicious' selection, their Mark of Sin will transform into this new mark.

Bloodsin

When a person's sin is accepted and embedded into their blood, it can take on the form of a weapon. This weapon can be withdrawn using the magic emitted by the Mark of Bloodsin.
Read more about the game's characters here, here, and here. View a set of screenshots here.
More information about Tales of Crestoria will be announced during the game's first official "News Channel" broadcast on December 14. Read more here.
Update 12/10/18 at 5:20 p.m.: Here is the full press release:
Defy Your Fate in Tales of Crestoria, Coming in 2019

Bandai Namco Entertainment Inc. today announced Tales of Crestoria, an upcoming role-playing game (RPG) for mobile platforms in the acclaimed Tales of series. The game is scheduled for release in 2019 as a free download on both the App Store and Google Play.

Tales of Crestoria introduces an all-new world filled with a bevy of brand-new characters brimming with vibrant personality, collaboratively designed by an all-star team that includes Tales of veterans Mutsumi Inomata and Kosuke Fujishima, alongside a score of other industry-leading creators making their series debut.

Tales of Crestoria takes place in an oppressive dystopia where every citizen must carry with them an all-seeing 'Vision Orb' that monitors for criminal violations. The game follows protagonists Kanata, a naive boy blindly accepting of to the Vision Orbs' justice, and Misella, an audacious orphan unbridled in her dedication to defending Kanata. Due to the horrific events of one fateful night, the duo find themselves branded "Transgressors", and condemned to death by society's popular vote—the draconian system of justice by which their world is governed. With eyes now opened to the injustices of society, a chance meeting with Vicious, "The Great Transgressor," gives Kanata and Misella a defining choice: Own your fate, or let fate own you.

To accompany the announcement of Tales of Crestoria's English release, Bandai Namco Entertainment Inc. has released the game's first English concept movie created by Yasutaka Nakata x Kamikaze Douga.

For continued news and updates on Tales of Crestoria, please follow the game's official Facebook page and Twitter page.