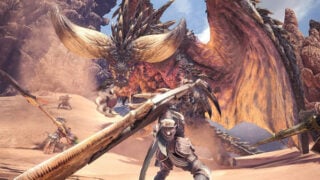 When Monster Hunter: World received the "Best Role-Playing Game" award at The Game Awards 2018, producer Ryozo Tsujimoto teased an upcoming announcement.
"Soon we will make an announcement that will make everyone happy," Tsujimoto said upon receiving the award.
When host Geoff Keighley asked Tsujimoto would be making the announcement then and there, the producer responded, "In a few days."
Monster Hunter: World is available now for PlayStation 4, Xbox One, and PC.
Update 12/07/18 at 8:21 p.m.: Capcom will host a "Special Developer Update" video presentation for Monster Hunter: World on December 10. Read more here.