Funghi Puzzle: Puzzle Explosion for Switch coming west on December 20
Known as The Nameko no Puzzle: Nameko Dai Hanshoku in Japan.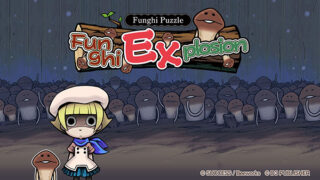 D3 Publisher will release Funghi Puzzle: Funghi Explosion for Switch via the Nintendo eShop in the west on December 20 for $19.99 alongside the previously announced Japanese release.
In Japan, where the game is called The Nameko no Puzzle: Nameko Dai Hanshoku, D3 Publisher will release the game in both physical and digital formats with Japanese, English, Traditional Chinese, and Korean language options.
Here is an overview of the game, via D3 Publisher:
An exhilarating puzzle game chock-full of Funghis!

Funghi, the detective sidekick mushroom, is now a puzzle game on the Nintendo Switch!

The rules are simple: just gather up three Funghi blocks and make them disappear. The blocks you clear make Funghis sprout on the log, and they get harvested when the log is full. Simple and fun!

You can play with either the touch screen or the controller!

Learn everything you need in the tutorial!


The game comes with a tutorial mode for people playing for the first time. Here, you can learn ways to clear blocks that don't involve just lining up three of them, allowing you to enjoy even more techniques.

By learning techniques such as the Line Harvest, where you clear all blocks in a line, or Area Harvest, where you harvest all of the Funghis around an area, you can aim for higher scores.

Enjoy exciting versus play!

This game can be played by two people with a single Joy-Con controller, allowing you to enjoy an exciting split-screen battle on a single Switch.

During versus mode, you can deal damage to your opponents with chains, and sabotage their harvesting efforts by sending mold at them.

By using the Switch's tabletop mode, you can enjoy a match with someone wherever you'd like, be it at a party or on a trip.

Take on Cromwell's Detective Lesson Mode!

Enjoy a change of pace from the game's normal puzzles with Cromwell's Detective Lesson Mode. Clear the ten problems Cromwell gives you to increase your Detective IQ.

Read the completion conditions and Cromwell's advice to get that clear!

Detective Lesson Mode results will be recorded in offline rankings.

Characters

Mackenzie – Detective and main character of the Touch Detective series. Her dream is to become a great detective, and she loves Cromwell's tea.
Funghi – A professional detective's sidekick sent by the Great Detective Society. His dream is to reproduce. The only sound he can make is "nff…nff…"
Cromwell – A butler who has served Mackenzie's family for generations. He is always worried about her future.
View a set of screenshots at the gallery.