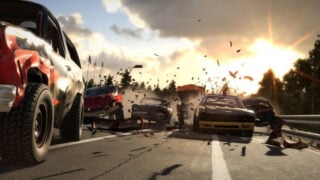 THQ Nordic has delayed the PlayStation 4 and Xbox One versions of Wreckfest from its previously planned November 20, 2018 release to 2019.
"Wreckfest for consoles will only be released as soon as we love playing it," said THQ Nordic senior producer Roger Joswig on the delay. "After the fantastic release on PC, the benchmark for the console release is much higher. At this moment, the team needs more time to polish the multiplayer part, as well as the overall performance on the game to bring it up to par with the experience on PC. We are sorry for keeping fans waiting longer because of this. However, we already have compensation in the form of further vehicles, including a special crazy vehicle, in the works for consoles."
Wreckfest is available now for PC.