Too Kyo Games, Grounding, and IzanagiGames announce action adventure death game Death March Club for PC [Update 2]
Due out in 2020.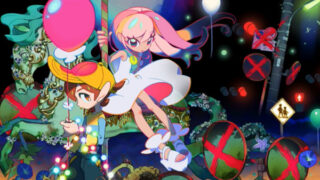 The latest issue of Weekly Famitsu reveals Death March Club, one of the four projects in production at the recently established Too Kyo Games. It is being developed in collaboration with Grounding for release on PC by publisher IzanagiGames in 2020.
Described as a controversial work where a death game unfold between 12 year-old elementary school students, the game is divided into action and adventure parts. Players will control a young boy named Reycho and solve puzzles while clearing stages.
Here is the game's development staff:
Creative Director: Kazutaka Kodaka
Scenario and Director: Kotaro Uchikoshi
Director: Takumi Nakazawa
Character Design: Take
Art Director: Kentarou Yoshida
Producer: Shinsuke Umeda
Development Director: Yukio Futatsugi
Developer: Too Kyo Games and Grounding
And here are some interview tidbits:
Kodaka: "I settled on a children's death game project with Uchikoshi. Since I'm finally taking a break from Danganronpa, I wondered if maybe that was enough death games, but Uchikoshi said he wanted to give another death game a try, so."
Uchikoshi: "(There were things that we didn't get to put in Zero Escape.) I persuaded Kodaka and won him over."
Kodaka: "In exchange for making this game, we promised that this will be our last death game. Then I'm done with death games. So this game will be the last death game we work on." […] "We're leaving the action parts to Futatsugi and the team at Grounding." […] "The people at Grounding have a lot of experience and can actually make things happenl it hit me again how amazing they are"
IzanagiGames' Umeda: "I want to sell games made by Japanese creators directly to big markets overseas." […] "There are other titles are in development at IzanagiGames, too."
Kodaka: "Since I had never heard of a group of people like IzanagiGames, it was a little shady when they reached out to me." […] "Action parts are side-scrolling." […] "This title is a children's game for adults."
Kodaka: "The tagline is 'Trust each other, die.'" […] "Unfortunately when you abbreviate the title of the game, it's DMC. (Laughs.)"
"The tagline for Zero Escape: Virtue's Last Reward was similar, 'If only we trust each other, if only they would die.'" Uchikoshi: "No way! Seriously!?" […] "Now that you mention it, we did use that! I thought we threw it out." Umeda: "Do you want to change the tagline?" Kodaka: "I'm sure you'll think of something better by tomorrow." Uchikoshi: "Give me a little longer than that…"
Kodaka: "For example, an elementary school student with the special ability to throw various things will appear. The reason will be revealed as you progress through the story." […] "There are also elementary schoolers with crazy abilities. There's even a character that can control electricity." […] "The only character you can control is called 'Reycho.' Other characters will follow, as well as cooperate during buddy actions." […] "The volume of the scenario is huge. You can look forward to plenty of unexpected twists until the very end of the story." […] "Reycho doesn't talk. The reason is similar to that of our national RPG." (Editor's Note: He is referring to the Dragon Quest series, whose protagonists do not speak.) […] "Adventure parts will be fully voiced." […] "It will take about 20 hours to finish the game." […] "Since our main target is overseas players, we're doing PC first." […] "It's a 2020 release, we announced it early because it's common to release information on indie games pretty far in advance."
Umeda: "Another reason is that this company has overseas funding. There may be a surprise announcement before release." […] "I would like to release an action gameplay demo as soon as we possible to get feedback."
Thanks, Ryokutya2089 (2, 3).
Update 5:15 a.m.: Here is a low quality preview scan:
Update 10/04/18 at 2:35 a.m.: I misread "March" as "Match." The title of the game is Death March Club, not Deathmatch Club.