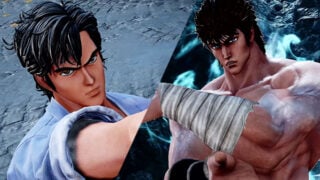 Jump Force will launch for PlayStation 4, Xbox One, and PC on February 15, 2019 in the Americas and Europe, and for consoles in Japan a day earlier, and Ryo Saeba from City Hunter and Kenshiro from Fist of the North Star will be playable characters, Bandai Namco announced.
Bandai Namco also revealed the "Paris" stage, which features elements from the Saint Seiya universe such as the Clock Tower and the Twelve Temples.
Here is an overview of each new character, via Bandai Namco:
Ryo, equipped with his trusted Colt Magnum, is a highly skilled gunman that rarely misses, as well as possessing extremely quick reflexes to dodge his enemy's attacks.

On the other hand, Kenshiro, is an immensely strong expert user of the Hokuto Shinken martial arts, who is able to target and defeat his opponent brutally, swiftly and effortlessly.
Watch a new trailer below. View a set of box arts at the gallery.