Street Fighter V: Arcade Edition coming to arcades
Location test set for October 5 to 7.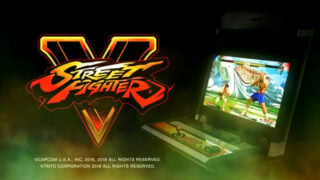 Capcom announced an arcade version of Street Fighter V: Arcade Edition at the Japan Premier Top 8 of Capcom Pro Tour 2018.
The arcade version will be based on the PlayStation 4 and PC versions of the game and include all currently available characters. The control panel of the arcade cabinet will feature a USB terminal that players will be able to connect a pad or their own controller.
A location test for the arcade version will run from October 5 to 7 at the following locations:
Taito Station Shinjuku Minamiguchi Game World in Tokyo
Plaza Capcom Kichijoji in Tokyo
Nagoya Leisurelan Sasashima in Nagoya
Sega Namba Avion in Osaka
Round One Fukuoka Tenjin in Fukuoka
A final release date was not announced.