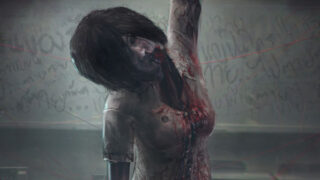 Home Sweet Home, a survival horror game based on real-world Thai mythology and lore, will launch digitally for PlayStation 4 and Xbox One on October 9, publisher Mastiff and Bangkok-based developer Yggdrazil Group announced. A PlayStation 4 physical edition will be released exclusively at GameStop stores across North America on October 16.
Here is an overview of the game, via Mastiff:
About

The first in a series of terrifying first-person horror games, Home Sweet Home throws players into a dark and twisted labyrinth, where a miasma of fear fills the air, dread bleeds through cracks in the ceiling and seeps down through broken floorboards, and anxiety grows stronger with every step.

After a long night filled with mourning and sorrow over the recent disappearance of his wife, Tim awakens to find himself in a strange, dilapidated building instead of the comfort of his own home. Naturally confused, he desperately begins to search for a way out while attempting to solve questions that could lead to answers regarding his wife's disappearance. At the same time, he'll find himself being hunted by malevolent spirits.

There is a dark and sinister secret casting a shadow over this interconnected labyrinth…and without question, it's no longer the happy home that it once was.

Key Features

Gripping Thai Horror – A dark narrative inspired by Thai lore, myths, and beliefs that will captivate players while keeping their palms sweating and pulses pounding with fear.
Sharpen Wits, Not Blades – Without weapons to provide defense against the evil spirits, players must keep their wits sharp at all times in order to survive.
Nicely Tied Together – The use of stealth and investigative skills offers gameplay variety and a chance for players to breathe, but not for long….
Face Your Fears – Experience a new level of first-person fear and terror with PlayStation VR compatibility.
View a new set of screenshots at the gallery.