Persona Q2: New Cinema Labyrinth beginning story scene [Update]
The Phantom Thieves find themselves in an unknown town.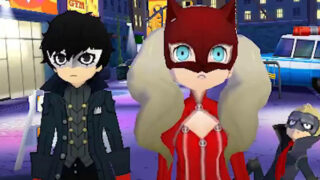 Atlus has released a new video for Persona Q2: New Cinema Labyrinth showcasing a story scene from the beginning of the game.
In the video, the Phantom Thieves of Persona 5, who were exploring Mementos, suddenly get lost in a town they have never seen before. And this place does not appear to be Mementos. So just where is it?
Persona Q2: New Cinema Labyrinth is due out for 3DS on November 29 in Japan. If you missed our previous coverage, read up on the game's story and systems here. A few additional tidbits of information are also available here.
Watch the video below.
【 #PQ2 11/29発売!冒頭のストーリーを紹介!】メメントスを探索していたワガハイ達怪盗団は、突然見たことない街に迷い込んでしまった。どう見てもメメントスじゃねーよな…。ここは一体どこなんだ…!?https://t.co/0zVzZOaeWV pic.twitter.com/A6AU9KHaDW

— モルガナ_ペルソナ広報 (@p_kouhou) August 25, 2018
Update 08/26/18 at 12:30 a.m.: A second video was also published. It shows the Phantom Thieves, who have escaped the unknown town, end up in a movie theater without an exit. There, they encounter a down-looking girl named Hikari and theater manager named Nagi. Apparently, the two are also trapped there.
【 #PQ2 11/29発売!冒頭のストーリーを紹介!】見知らぬ街から脱出したワガハイ達が次にたどり着いたのは、出口のない謎の映画館。そこには、うつむきがちな少女ひかりと映画館の支配人のナギが。どうやら彼女たちもこの映画館に閉じ込められちまったようだ。https://t.co/0zVzZOaeWV pic.twitter.com/2hXhDLa2mR

— モルガナ_ペルソナ広報 (@p_kouhou) August 25, 2018