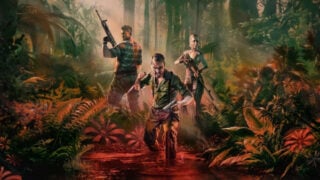 Publisher HandyGames, parent company THQ Nordic, and developer Cliffhanger Productions have announced Jagged Alliance: Rage! for PlayStation 4, Xbox One, and PC. It will launch this fall for $29.99 on consoles and $19.99 on PC.
Jagged Alliance: Rage! will be the first game published by HandyGames, which is the latest addition to the THQ Nordic family. HandyGames will act as an independent publisher, focusing on small and mid-sized projects or third-party indie games.
Here is an overview of the game, via THQ Nordic:
About

Jagged Alliance is back – With a new take on turn-based tactics, adventure elements and the well-known quirky mercenaries! Set 20 years after the first Jagged Alliance, this spin-off lets you experience a road trip into a jungle hell to test your mind and body to the limits!

This time it's just you and a few allies versus an entire island ruled by a drug overlord and his crazed army.

Key Features

Two-player online co-op mode
Deep turn-based tactical gameplay mixed with adventure elements
Choose a variety of tactics ranging from stealth to brute force
Strong character personalities with own skills, desires and personal conflicts
Rage skills: Unique character abilities that get more powerful over the course of the battle
Powerful Commanders coordinate enemy troops on the battlefields
Face terrifying experimental drugs and use them to manipulate your enemies
Watch the announcement trailer below. View the first screenshots at the gallery.