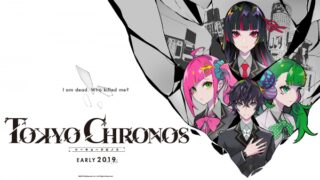 Developer MyDearest will launch a Kickstarter campaign for its May-announced virtual reality mystery visual novel Tokyo Chronos on July 10, the company announced.
Prior to the start of crowdfunding, an exclusive playable demo and developer panel discussion will be held at Anime Expo 2018 in Los Angeles.
Here are the details:
Developer Panel Discussion

Title: New Era of Visual Novel: Dive Into the Screen with VR Technology
Date: July 7 from 12:00 p.m. to 1:00 p.m. PT
Where: Anime Expo, Los Angeles Convention Center, Room 404AB (Live Programming 5)
Description: Haruki Kashiwakura (Expelled from Paradise, Project Hikari) and Christopher Ling (CEO of Sekai Project) will discuss the future of Visual Novels! The talk will be moderated by Kento Kishigami, CEO of MyDearest Inc. Discover Tokyo Chronos with Sekai Project!

About the Playable Demo at Anime Expo 2018

Where: Los Angeles Convention Center, South Hall #BOOTH 4418 (Sekai Project Booth)
Content: Playable demo of Tokyo Chronos
Here is an overview of the game, via MyDearest:
About

A virtual reality mystery visual novel developed by a team of amazing creators.

Characters come to life, right before your eyes. The mystery gradually unfolds in this suspenseful story set in an enigmatic world. A completely new Visual Novel UI optimized for VR. A stereophonic sound system that will transport you into the story. This is a title that allows you to fully dive into the world of the game, a visual novel experience like never before.

Staff

Director: Haruki Kashiwakura (Motion Director of Expelled from Paradise)
Scriptwriter: Kou Segawa (Mystery Writer, Konya, Kimi ni Korosareta to shitemo)
Producer: Kazuma Miki (Editor / Producer of Sword Art Online)
Character Designer: LAM (Illustrator)
Publisher: Sekai Project (Overseas Publisher for Clannad and Nekopara)
Promotional Consultant: Tokyo Otaku Mode Inc.

Synopsis

When, and why, have we become separated?
A group of eight childhood friends—.

The time has come for the truth to be revealed.

Trapped in an empty, deserted Shibuya where time has frozen over.
A strange world where the eight disappear one by one.

—I am dead. Who killed me?
Tokyo Chronos is due out for PlayStation VR, Oculus Go and Rift, and SteamVR in early 2019. Visit the official website here and Twitter account here.
View a new set of artworks at the gallery.