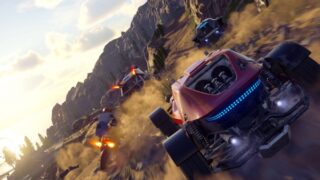 Codemasters has released over 20 minutes of beta gameplay footage of Onrush, its upcoming arcade-style racing game, as well as a new set of screenshots.
Here is an overview of the game, via Codemasters:
About

Onrush marks a triumphant return for action packed, arcade-style racing. A celebration of sensational speed, outright fun and over the top spectacle Onrush makes sure that you are always in the thick of the action as you race, smash and boost your way to victory.

A racing game without a finish line, driving with style and flair is what counts as you perform incredible takedowns and put everything on the line in order to power up your all important RUSH bar. Once activated RUSH is the ultimate manifestation of boost and power that will see you wreak havoc on your opponents as you perform death defying stunts leaving carnage in your wake.

Key Features

Rush, the ultimate racing power up that allows you to cause complete carnage and take control of the race. Each vehicle class has different RUSH abilities.
'Stampede' ensures that you are always in the fight. If you find yourself too far from the pack, Stampede will throw you back into the heart of the action.
Eight vehicle classes, each with unique abilities and with hundreds of unique customisations.
Four race modes: Overdrive, Switch, Lockdown & Countdown.

Overdrive: Earn boost however you can and then release it to help your team hit the target score first.
Switch: You only have three lives and your vehicle class will switch after each death. The last team standing wins.
Lockdown: Work as a team to capture mobile zones. The team with the most vehicles in the zone will take the points.
Countdown: Race against the clock to make it to the next checkpoint before your time runs out.

12 stunning and distinctive multi-route tracks where different vehicles open different opportunities.
12 distinctive selectable characters, each with 18 different skins.
Apply hundreds of additional unlockable customizations to your vehicle and character, such as Tombstones, Tricks and Taunts, Crashtags, and Victory Celebrations.
Single player 'Superstar Mode' campaign allows you to play the entire game solo or co-operative.
Six-versus-six online multiplayer available for all game modes and tracks.
Photo Mode lets you share your best moments with the world with various filters, adjustable settings, and options.
Rewards system gives you randomized gear crates, containing cosmetic customization, and personalization items.
Reactive soundtrack matches the action on screen.
Onrush is due out for PlayStation 4 and Xbox One on June 5.
Watch the footage below. View the screenshots at the gallery.
Big Dune Beach Overdrive
Volcano Lake Countdown
Volcano Lake Overdrive
Whitewater Canyon Overdrive