Monster Hunter: World Limited Edition PS4 Pro Bundle launches January 26 in North America and Europe
Standalone Glacier White PlayStation 4 Pro also coming to North America.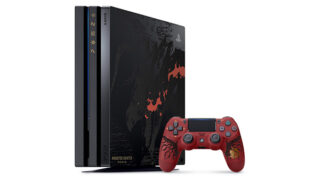 Sony Interactive Entertainment will release the Monster Hunter: World Limited Edition PlayStation 4 Pro Bundle in North America and Europe, the company announced.
In North America, the system will cost $449.99 USD and be sold exclusively at GameStop on January 26 in "very limited quantities." It includes a Monster Hunter: World-themed Jet Black PlayStation 4 Pro console and red DualShock 4 wireless controller, a physical copy of Monster Hunter: World, and digital content.
In Europe, Sony suggests you check your local retailer for availability, as the bundle is not exclusive to any particular store.
In related news, Sony Interactive Entertainment also announced that it will release the Glacier White PlayStation Pro for the first time as a standalone console in North America exclusively at GameStop at the end of January for $399.99 USD. In Canada, it will be available exclusively at EB Games for $499.99 CAD.