Campo Santo Productions announces In the Valley of Gods
Due out in 2019.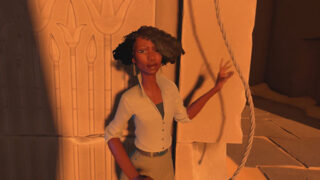 Fire Watch developer Campo Santo Productions has announced In the Valley of Gods, an Egyptian desert-set first-person adventure game due out in in 2019.
Here is an overview of the game, via its Steam page:
A single-player, first-person adventure set deep in the desert of Egypt.

From the team that brought you Firewatch, In the Valley of Gods is a sprawling narrative experience in remote, 1920's Egypt. You are Rashida, a disgraced former explorer and filmmaker given one last shot at the adventurous life you desperately miss. Somewhere, beyond the endless miles of dunes, ruins, and tombs lies an incredible archaeological discovery—but it can't be found without the help of Zora, the former partner you vowed never to work with again.

In the Valley of Gods is currently in development and does not yet have a release date or system requirements. Be sure to add it to your wishlist and follow development at http://blog.camposanto.com.
Watch the announcement trailer below. Visit the official website here.
https://www.youtube.com/watch?v=ceJcHUoO734