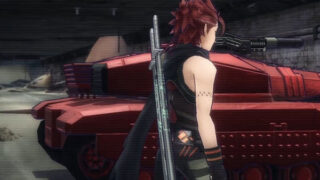 The "new post-apocalyptic RPG" (Editor's Note: We previously referred to this as "True End of Century RPG") teased for PlayStation 4 and PS Vita last week is Metal Max Xeno, Kadokawa Games announced in the latest issue of Dengeki PlayStation. The game is described as a "love story between the protagonist and mankind's last virgin."
Here's a list of the staff:
Overall Direction: Yoshimi Yasuda
Director: Hiroshi Miyaoka
Producer: Juntarou Kouno
Music: Satoshi Kadokura
Character Design: Oda Non
Monster Design, etc.: Atsuji Yamamoto
Metal Max Xeno will launch in Japan in spring 2018.
Thanks, Ryokutya2089.
Update 3:00 a.m.: New details have come in.
Game Content
The game is set in the year 209X in a country called Nippon (Japan—it's spelled out in Katakana).
The protagonist is named Talis. Half of his body is mechanized, and he has the power to take on powerful monsters on his own.
The heroine is named Toni. Her father was killed, but she was saved by Talis and sticks beside him.
There is a mechanic named Yokky, who spends his days indulging in alcohol. His weapon is a huge wrench even bigger than himself.
The tank is called "Crimson Avenger R-Wolf" and is designed by Atsuji Yamamoto.
The enemy is "SoNs," monsters whose aim is to eradicate all human life.
On the field, you an launch a preemptive strike at enemies by firing from your tank.
Developer Interview Tidbits
This is a tank and human RPG return to roots.
While Metal Max 4 cannot be called a sales success, Metal Max Xeno is a return to roots and a rebirth, in a series different from the numbered titles, that sweeps the slate clean.
The setup where Noah caused the great destruction and the Blood Corporation exists has not changed, but the time period is different.
The setting is built to give off the feeling of Tokyo.
The beginning of the game is "a journey where you will long see the destruction of mankind."
There are bounties and tank customization. This will be the fullest entry in the series yet.
There are new elements such as a "Firing Mode" and an "Iron Base where the protagonist and company are set up."
Your first playthrough is a huge tutorial. Your second playthrough is the real Metal Max.
Toni is "mankind's last virgin." The game may depict the "love between mankind's last male virgin and female virgin. (Laughs.)"
You'll be able to listen to the "WANTED" music track. There are also plenty of new songs, but a sufficient amount of old songs are also in the game.
Metal Max Xeno is the successor to the cancelled Metal Max: Wild Eyes.
They're trying to make an entirely new series that uses the distinctive characteristics of previous Metal Max games.
Thanks, Ryokutya2089.
Update 3:50 a.m.: A few more details have come in, via an official preview from Dengeki Online. Metal Max Xeno is set in a ruined and desertified world, in which a story will unfold where mankind became an endangered species after being dominated by a mysterious mechanical force. The metropolis that is the setting of your journey is called "Death Tokyo."
Update 5:05 a.m.: Here is Famitsu's preview scan:
Development is being handled by Kadokawa Games, Cattle Call, and 24Frame.
Thanks, Ryokutya2089.