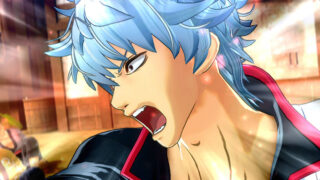 Bandai Namco has released the debut trailer and opened the official website for Gintama Rumble, its upcoming PlayStation 4 and PS Vita game based on the long-running manga and anime.
First, here are all the details from the website:
■ Characters

◆ Playable Characters

Gintoki Sakata

Leader of Yorozuya, an outfit that will do anything it is requested. A former Jouishishi, he is a master of the sword who has earned the title "Shiroyasha."

—Battle Style

Gintoki is characterized by wide-ranging attacks and high attack power. Many of his attacks are easy to handle, and are useful in various situations such as melees and one-on-one battles. As he grows, his attack and defense will both rise averagely. Use Gintoki to learn the game's basics.

Shinpachi Shimura

Son of the run down Koudoukan sword-fighting dojo, inherited from his father who died. He helps out Gintoki by working at Yorozuya. He is also the commanding officer of Terakado Tsuu's Imperial Guards.

—Battle Style

Shinpachi is a reliable character that can quickly defeat his enemies. He is an all-rounder that is easy to handle and has so-so attack range. His abilities are also average, and he doesn't have any specific weak points. Indeed. He is extremely normal.

Kagura

A girl of the "Yato Tribe," known as the greatest fighters in the universe. She met Gintoki by chance, and works for him part-time. She has a cute face, but can also be brutal.

—Battle Style

Kagura is characterized by an emphasis on combos and continuous waves of attacks. Because her aerial attack is especially powerful, hitting enemies from the air to knock them down is key. Her physical strength is difficult to grow, but that can be compensated to some extent by her natural attack abilities.

Kotarou Katsura

A Jouishishi wanted by the Bakufu. Also known as "The Rampaging Noble." He is serious, but airheaded. He is quick to escape and is a master of disguise.

—Battle Style

Kotarou is characterized by basic sword-fighting and trick attacks that use bombs. By grasping the bombs' sense of distance, their true value will manifest. Even if you are just fighting using one or the other, you should toss around enemies while putting annihilation power-lacking bombs and sword-fighting to proper use.

◆ Boss Characters

Nizou Okada

A blind swordsman who is a master of Iai jutsu and is known by the nickname "Manslayer Nizou." He conspired with Takasugi, and uses the strongest sword, "Benizakura."

◆ Assist Characters

Elizabeth

A mysterious cosmic creature given to Katsura by Sakamoto. It communicates its intentions using the board it holds in its hand, but very rarely will say something with an intimidating tone.

■ Modes

◆ Long-Form Retrospective Rumble Mode

About Long-Form Retrospective Rumble Mode

Relive the Gintama experience throughout eight chapters. Experience numerous fierce battles and excitement with your own hands through beautiful graphics unseen before in a Gintama game. Adventure Parts will feature cuts from the anime. Advance the story while looking back on scenes from the old days!

Benizakura Chapter: Story

One day, Yorozuya receives two requests: "find Kotarou Katsura" and "seek out the Demon Sword Benizakura." While Kagura and Sinpachi, and Gintoki, were investigating the cases separately, the two cases will cross over with the appearance of "Manslayer Nizou," who Gintoki once battled.

■ Systems

◆ Samurai Rumble Action

Gintama Rumble features samurai rumble action where you will use numerous flashy techniques to defeat large groups of attacking enemies. Master the playable characters, each of which are unique in their own right, and run through the battlefield.

◆ Gintama Assist Characters

Gintama assist characters will provide backup attacks during battle. Cooperate by linking with their unique techniques and call upon them for help whenever you're in a pinch.

◆ Awakening and Awakening Rumble

Gintama is known for its characters not having any special techniques. However, in this game, each playable character can perform an exhilarating big technique through "Awakening and Awakening Rumble." By attacking enemies, the "Awakening Gauge" will rise and when it reaches its max, an "Awakening" can be triggered, drastically increasing the character's attack power.

And during an Awakening, a "Rumble Gauge" will appear, which enables the powerful special move "Awakening Rumble" when it reaches its max. Additionally, for an Awakening Rumble, by satisfying certain conditions during an Awakening, you can unleash your own original finishing cut-in with a famous scene and words from the anime selected by you.

■ Stages

◆ Kabuki District

Locations that appeared in the original work will appear one after the other, including:

Shinsengumi Headquarters
Machine Hall
Koudoukan
Yorozuya Gin-chan
Hokuto Shinken
Riverside

◆ Harusame Battleship

The Harusame Battleship will also appear.

■ Special

◆ Early Purchase Bonus

Early purchases of Gintama Rumble will include a product code to use the "Neo Armstrong Cyclone Jet Armstrong Cannon" in the game. In what way will it appear in the game? Don't pass this up!

◆ Pre-Order Bonus

Pre-orders for Gintama Rumble will include the "Gintama Rumble Drama CD," which comes with a product code that makes signature phrases available in the game. Use them when customizing the signature phrases of each playable character's special move.

◆ AV Edition

An "AV Edition" limited edition of Gintama Rumble will be available both physically and digitally for 10,600 yen on PlayStation 4 and 9,800 yen on PS Vita. It will include 16 select tracks from the opening and ending themes of the television anime, as well as 60 exclusive voiced signature phrases.

The 16 songs include:

"Pray" by Tommy Heavenly6
"Giniro no Sora" by Redballoon
"Shura" by DOES
"Donten" by DOES
"Anata MAGIC" by Monobright
"Kagayaita" by Shigi
"Tougenkyou Alien" by Serial TV Drama
"Samurai Heart (Some Like It Hot!!" by Spyair
"Wonderland" by FLiP
"Nakama" by Good Coming
"Sakura Mitsutsuki" by Spyair
"Beautiful Days" by Okamoto's
"Know Know Know" by DOES
"Kagerou" by Real
"Bakuchi Dancer" by DOES
"Genjou Distraction" by Spyair
Gintama Rumble will launch for PlayStation 4 and PS Vita on January 18, 2018 in Japan. Pre-orders will open on October 10. An Asian English release of the PlayStation 4 version is also planned, but a release date has yet to be announced.
Watch the trailer, as well as the music video for "Scramble" by Spyair, which will be featured as the game's theme song, below.
Trailer
https://www.youtube.com/watch?v=0LM9x5fj6to
Spyair Collaboration
"Scramble" Music Video
Region-blocked. Download the MP4 file here.
Spyair Comment