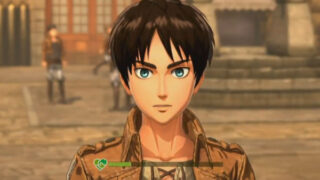 Koei Tecmo debuted the first gameplay of Attack on Titan 2 during an hour-long live stream this morning.
The footage showcased the creation of an original protagonist, the story mode from the perspective of the original protagonist, and gameplay with existing characters.
As announced earlier today, Attack on Titan 2 will launch for PlayStation 4, Xbox One, Switch, and PC via Steam in North America and Europe in March 2018. In Japan, it will launch during the same window for PlayStation 4, Switch, PS Vita, and PC via Steam.
Watch the footage below (available from 23:30 to 44:03, and 50:04 to 58:46).