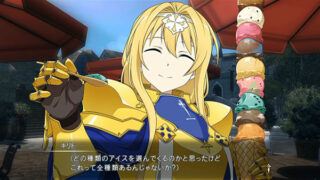 The third of the three-chapter "Abyss of the Shrine Maiden" downloadable expansion story for Sword Art Online: Hollow Realization—"Chapter III: The One Who Resists God"—will launch for PlayStation 4 and PS Vita today in the Americas and Europe, Bandai Namco announced.
Here's an overview of the third chapter, via Bandai Namco:
New main scenario quest: The masked girl has disappeared. Searching for her, Kirito and his friends step into the newly generated stage, Elionward Dominion. A singularity that can change the fate of the masked girl. But it seems the troubles are not over yet. A heartless announcement from operation side resounded through the abnormal world and this means only one thing: the final battle begins.
A new Stage The Elionward Dominion
Oracle's Dungeon – A high-difficulty dungeon of 100 tiers + 1000 tiers where only AI NPCs can use recovery skills. In this infinite dungeons players can join the forces with NPCs they meet along the way and randomly encounter legendary enemies.
New Heroine Quest that will involve Seven and Rain
New Paragon armors, sword and ability skills, and much much more
Four new Characters: Alice, Eugeo, Awakened Tia and Zero
A new co-sleeping event (Alice, Eugeo and Awakened Tia)
Sword Art Online: Hollow Realization is available now for PlayStation 4 and PS Vita.