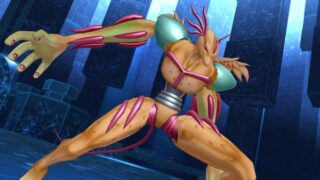 Bandai Namco released a new set of Digimon Story: Cyber Sleuth Hacker's Memory screenshots at Tokyo Game Show 2017 detailing a new Digimon named Arukadhimon and a new costume change feature.
Get the details below.
Arukadhimon

—Bandai Namco America Description

Arukadhimon is a demonic creature created from an amalgamation of data taken from other Digimon and can Digivolve through absorbing its opponent's data. Arukadhimon is the greatest threat to the digital and real worlds as it attempts to spread fear, amplify hatred, and create conflict between people.

—-Bandai Namco Europe Description

The worst has happened and the wall between the two dimensions has collapsed! The boundaries between reality and digital are now disappearing. As if that weren't bad enough, a demonic creature named Arukadhimon has been unleashed from the "Avalon Server" and he is scaring everyone! Arukadhimon is probably the greatest threat to both worlds as he is able to grow and evolve by absorbing human emotions.

Costume Change

The collectible T-shirts include special designs based on the Digimon 15th Anniversary, Summer Camp, Beelzebumon Emblem, Digimon 20th Anniversary, and more. Players can collect these exclusive T-Shirts at the in-game shop or obtain them through various in-game events to customize the main character's look.
Digimon Story: Cyber Sleuth Hacker's Memory will launch for PlayStation 4 and PS Vita in Japan on December 14, and in North America and Europe in early 2018.
View the screenshots at the gallery.