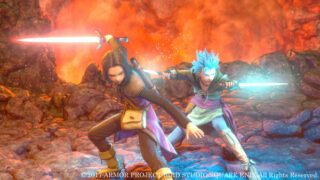 First two-day sales for Dragon Quest XI: Echoes of an Elusive Age topped over two million across PlayStation 4 and 3DS in Japan, Famitsu numbers reveal.
According to Famitsu, the 3DS version of Dragon Quest XI sold 1,130,468 copies, while the PlayStation 4 version sold 950,338 copies. Collectively, Dragon Quest XI sold a total of 2,080,806 copies. These sales only account for July 29 and 30.
It should be noted that these numbers include sales for the standalone game in addition to the "Dragon Quest XI Double Pack Hero's Sword Box," "New Nintendo 2DS LL Dragon Quest Liquid Metal Slime Edition," and "PlayStation 4 Dragon Quest Loto Edition." Digital sales are not included.
Hardware-wise, the release of Dragon Quest XI moved a total of 126,790 units in the 3DS family (up from 28,831 last week) and 93,954 units in the PlayStation 4 family (up from 27,530 last week).
Dragon Quest XI: Echoes of an Elusive Age launched for PlayStation 4 and 3DS on July 29 in Japan. A Switch version is also planned, but has yet to be shown or dated. Dragon Quest XI is due out for release in North America and Europe in 2018. Platforms for the west have yet to be announced.