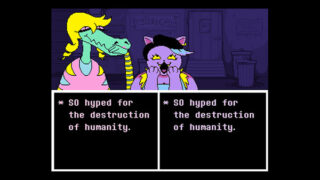 Undertale will launch digitally for PlayStation 4 and PS Vita on August 15, developer Tobyfox announced. It will support cross-buy, meaning if you buy one version, you will get the other version for free.
Pre-orders for Undertale include a new dynamic PlayStation 4 theme by Truant Pixel with art by Merrigo and a new minute-long song by Tobyfox:
Fangamer will be producing physical versions and a collector's edition of Undertale in September, which is available for pre-order now. The collector's edition includes:
The complete Undertale soundtrack: Over 100 songs on two CDs
Undertale sheet music booklet featuring six songs with annotations by Toby Fox
A 14k gold-plated brass music-box locket
A sturdy collector's box
A physical copy of Undertale for PS4, PS Vita, or PC
Undertale is currently available for PC.