Pixel Gear developer announces Reborn: A Samurai Awakens for PlayStation VR
A "first-person shooting and combat" game.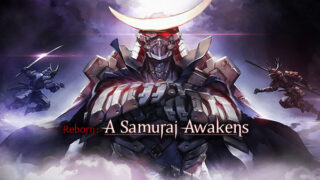 Publisher Winking Entertainment and developer Geronmio Interactive, the Chinese studio behind Pixel Gear, has announced Reborn: A Samurai Awakens, a "first-person shooting and combat" game for PlayStation VR. It will launch "at the end of 2017."
Here's an overview of the game, via Winking Entertainment brand manager Eric Tsai on the PlayStation Blog:
Set in the year 2480, A Samurai Awakens is filled with armor-clad sword-swinging alien machines and laser-shooting flying eyes. And evil samurai. And ninjas.

Did I mention that we have robotic mechanized cyborg dual-wielding gun-slinging laser blade psychic power slice-n-dice sumo wrestler boss fighting pandemonium action in spades?

Players take the role of Yukimura Sanada, the famous samurai warrior of Feudal Japan, resurrected to fight against extraterrestrial invaders of earth. Yukimura is armed with dual laser katanas, pistols and psychic powers at his disposal. Each hand can also wield a different weapon, so players can choose between a sword-and-gun stance, sword plus psychic power, or just go all-out with dual katanas or dual guns.

Players will be able to briefly stun enemies by counter-attacking at the right moment – "Hack Time" allows players to interrupt the waves of attacking enemies and retaliate with double damage as time slows down.

In each stage, there will be a multitude of enemies engaging the player, often you'll find yourself deflecting laser fire while counter-attacking enemy sword swings from all directions. With the PlayStation VR headset and 2 Move controllers, the satisfaction of chopping futuristic automatons into neat little pieces is something to experience for yourself.

In Reborn: A Samurai Awakens, it's Yukimura against a whole army of alien machines — but the Boss enemies are the real main attraction. During Boss fights, anything goes – Bosses may throw huge objects or just go full berserk. Special QTE motions can be used to combat these seemingly hopeless moments — that block motion or dodge to the side may just save your life.
Reborn: A Samurai Awakens will be playable at Gamescom 2017, which runs from August 22 to 26 in Cologne, Germany.
Watch the announcement trailer below.