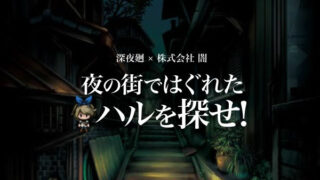 Nippon Ichi Software has updated the official Japanese website for Yomawari: Midnight Shadows with a "Find Haru Who Got Lost in the Night Town" mini-game playable on smartphones.
The mini-game tasks players with finding Haru on the map before the two-minute timer reaches zero. If you fail to find her, Haru will die. Running into ghosts will make time go by faster, and running into crab ghosts with a human face that only appear between the hours of midnight and 5:00 a.m. will result in an instant game over. If you find Haru, tap her to complete the game. You can play as many times as you like to get a better completion time.
Yomawari: Midnight Shadows is due out for PlayStation 4 and PS Vita in Japan on August 24, and for PlayStation 4, PS Vita, and PC in North America and Europe this fall.