Dragon Quest XI details PS4-exclusive features
Beautiful graphics, two battle styles, Bowgun Adventure, and more.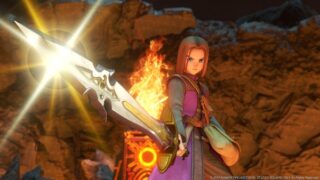 Square Enix has updated the official website for Dragon Quest XI: In Search of Departed Time with new information and screenshots about the game's PlayStation 4-exclusive features.
Get the details below.
■ A Beautifully Expressed, Dramatic Adventure

Fields that spread as far as the eye can see, significant story scenes, dungeons of variosu environments, diverse townscapes… everything is vividly expressed and promotes the gratification of the adventure.

The setting of this adventure is Lotozetasia, a world that spreads as far as the eye can see.

—Your horse will be of the utmost convenience in traveling this expansive world.

—You can even blow back monsters!

Facial expressions and actions are fully depicted.

—Push your way through spider webs…

—Crawl through holes…

—And freely make use of various actions.

The world of this adventure is beautifully depicted.

—Intricate townscapes.

—Giant statues that reach the clouds.

—Magical caves.

—A casino to earn quick money.

—Fiery lava.

—Beautiful, shining springs.

A diverse ecoystem of monsters.

—Monsters will form herds…

—Make suspicious prayers…

—And… can even be found gathered for class?

■ Two Battle Styles

Free Movement Battles

Freely move the character and viewpoint.

—Freely move your character.

—Sneak up behind enemies!

Auto Camera Battles

Battles full of presence.

—Scenes full of presence.

—Offense and defense are also of major importance!

■ Exploration Elements

Explore every nook and corner of the world. Take on the "Bowgun Adventure."

—A character in a certain town will invite you to join in on the Bowgun Adventure.

—You can shoot at the targets you find that are scattered all over the world with your bowgun.

—Targets can be found in various locations. Be sure to look around everywhere.

■ Magic Slots

The Magic Slot will let players enjoy gorgeous scenes and mysterious events.

—Go on a great adventuer with Rocket, a slime, and fight monsters and get items.

—Monsters you defeat can even get up and become your allies!?

—If you get all 7s, a bonus game will start.

—At the end of the bonus game, you'll battle against a powerful boss.

—The Magic Slots are full of mysteries.

—You can of course enjoy casino games such as the traditional slots and poker, as well.
Dragon Quest XI: In Search of Departed Time will launch for PlayStation 4 and 3DS on July 29 in Japan. A Switch version is also planned, but has yet to be shown or dated.
View the screenshots at the gallery.