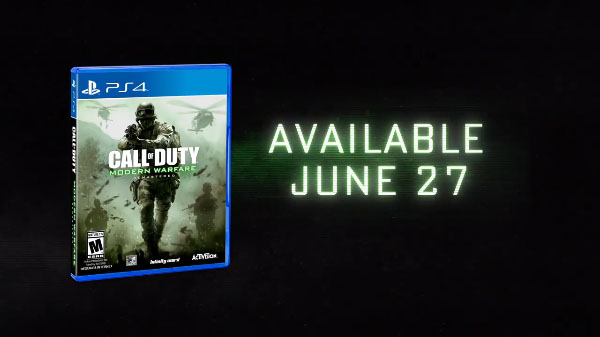 Call of Duty: Modern Warfare Remastered, which was originally only included with the Legacy Edition or higher of 2016's Call of Duty: Infinite Warfare, will launch physically and digitally for PlayStation 4 on June 27 for $39.99, followed by Xbox One and PC at a later date, Activision announced.
The standalone release does not include the "Variety Map Pack" add-on.
Here's an overview of the game, via Activision:
Call of Duty: Modern Warfare Remastered features fully improved texture resolution and detail, revamped animation, remastered audio, and much more. Fans will relive the full, iconic story campaign as they're transported around the globe with Capt. Price, Gaz and Soap across all the missions from the original game, including "All Ghillied Up," "Charlie Don't Surf," and "Crew Expendable." Players will also experience the online multiplayer mode that redefined Call of Duty by introducing killstreaks, XP, Prestige and more, and battle head-to-head in the fan-favorite maps from the original multiplayer mode, including classics such as "Crash," "Backlot" and "Crossfire."
Watch the announcement trailer below.
(Editor's Note: This article originally wrongly stated the Xbox One and PC versions would launch on June 29. This error originated from a screen capture we took from the video, which made it look like the game would release June 29, but first on PlayStation 4 on June 27. We apologize for the mistake.)