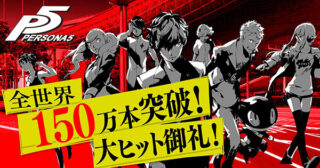 Worldwide shipments for Persona 5 have topped 1.5 million, Atlus announced.
We know that at least 550,000 of those shipments are from Japan, as Atlus announced in October.
Persona 5 launched for PlayStation 4 and PlayStation 3 in Japan on September 15, 2016, and in North America and Europe this Tuesday, April 4.
Accompanying the announcement is a reminder that Atlus will continue to promote Persona series content beyond the scope of video games, such as with the recently announced concert on August 2.