April Fools' Day 2017 compilation
Tactical and fighting games that look all too real.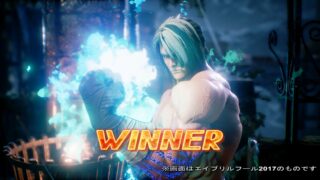 Welcome to our annual April Fools' Day compilation, where we find and compile all of this year's April Fools' Day jokes.
If something you read or watch between today and tomorrow sounds too good to be true, it is probably a joke, so be careful of what you believe.
Find our annual roundup of games-related jokes below. The list will be updated as new jokes arrive, so be sure to check back every so often.
April Fools' Day 2016 | 2015 | 2014 | 2013 | 2012 | 2011
Added on April 1 at 5:50 p.m.
Added on April 1 at 3:25 p.m.
WayForward – Announcing Shantae: Demakeified, due out this fall on all consoles with an RF output.
Added on April 1 at 12:45 p.m.
Added on April 1 at 11:10 a.m.
Sonic Retro – Announcing Sonic & All-Stars Racing Transformed Turbo Edition for Switch, featuring nnew characters such as Opa Opa from Fantasy Zone, Kazuma Kiryu from Yakuza 0, and Hatsune Miku from Hatsune Miku: Project DIVA Future Tune. Sonic Retro even put together an "official website."

Sukeban Games – Announcing VA-11 HALL-A: A Good Boy Edition for Switch. Features HD rumble compatibility, 3D mode for Dreamcast quality models, new characters and collaborations, is developed by Imageepoch, plays like Papers, Please, and features new playable character Rad Shiba.

Yooka-Laylee – The Yooka-Laylee Rap has arrived.
Added on April 1 at 9:20 a.m.
Added on April 1 at 3:30 a.m.
IGN – Announcing AMC's Grand Theft Auto. Watch the official trailer.

The Pokemon Company – Introducing "MaChamps," an exclusive new spring underwear campaign, which is already breaking records. Machamp is now the first Pokeon to land a high-profile modelling contract.
Added on April 1 at 2:10 a.m.
Ace Combat Infinity – "Nuggets vs. Sweetie" Team Deathmatch ranking event announced.

Frozenbyte – Frozebyte announces My Space Van, a collaboration project with the creator of My Summer Car.

Granblue Fantasy – New Vee battle event.
Added on April 1 at 12:10 a.m.
Injustice 2 – Ed Boon teases Wonder Twins.

World War Toons – World War Toons Remastered announced for "Nintendo's most innovative console to date," Virtual Boy. It uses a new Hyperfuse Graphics system, so you will no longer need to worry about your eyes targeting all of the different colors on the spectrum.
Added on March 31 at 11:10 p.m.
Final Fantasy XV – Introducing Final Fantasy XV: Episode Kenny. In order to become the true chosen mascot, Kenny must go on a journey to collect the King's salmon. What will be this story's shocking conclusion? The DLC will cost 1.5 billion yen when it launches. Watch a gameplay video showing Kenny's "Phantom Summon" here.

Press Start – Pokemon Snap GO announced for Switch.
Added on March 31 at 9:30 p.m.:
Added on March 31 at 6:50 p.m.:
Danganronpa Re:Birth – Introducing Danganronpa Re:Birth. The website notes that it is a secondary work of the Danganronpa series created by fans, and that the original author, companies, and copyright holders are completely uninvolved. The specs for the game note it's for "P5 Vita" and that the genre is "April Fools." The characters on the website are Ayumu Fujimori (Ultimate Misfortune), Mikoto Itsuki (Ultimate ???), Mitsunari Koga (Ultimate Ventriloquist), Niko Himuro (Utimate Poet), Kasumi Izumo (Ultimate Psychic), Saiji Rokudou (Ultimate Mortician), Maiko Kagura (Ultimate Dancer), Akira Michiya (Ultimate NEET), Misuzu Aisaka (Ultimate Shrine Maiden), Narumi Oosone (Ultimate Foodie), Keego Sakuma (Utimate DJ), Aruma Todoroki (Ultimate Trainer), Mariso Mizuta (Ultimate Meteorologist), Kazuomi Samejima (Ultimate Karate Master), and Seishi Yodogawa (Ultimate Mystery Writer). The website has a trailer, and each character description has a four-minute gameplay video. Add this one to the list of remarkably well done.
Added on March 31 at 1:05 p.m. (Original Publishing Time)