Japanese creators respond to 2017 expectations in Weekly Famitsu
Tidbits about Dynasty Warriors, Phantasy Star, and more.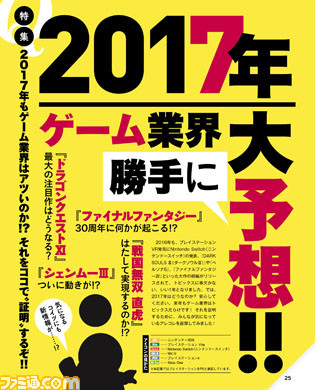 The latest issue of Weekly Famitsu has a big feature where it asks Japanese game creators to respond to certain expectations of 2017.
Here at the tidbits:
Dynasty Warriors 20th Anniversary

Koei Tecmo PR: "Kenichi Ogasawara will be at the December 17 broadcast. Both the staff and voice cast are looking forward to Ii Naotora becoming the protagonist of a Taiga drama. Samurai Warriors: Naotora sounds like it would be a cool game title."

Phantasy Star 30th Anniversary and Phantasy Star Online 2 Fifth Anniversary

Sega Producer Satoshi Sakai: "We're planning various projects appropriate for the memorial year. I can't say the details yet, but please look forward to future announcements."

Shin Megami Tensei 25th Anniversary

Shin Megami Tensei IV: Apocalypse Producer Kazuyuki Yamai: "Next year, we'll celebrate a memorable checkpoint on the way to future development of the Megaten series. I hope to be able to share 'something' with everyone then."

Disaster Report 4 Plus: Summer Memories

Granzella Producer Kazuma Kujo: "I'm sorry that we haven't reached the stage yet where we can announce the official release date. As for PlayStation VR support, we plan on having an announcement in next week's issue of Weekly Famitsu."

Regarding the Release of an Asagi-starring Makai Wars

Nippon Ichi Software President Sohei Niikawa: "No comment. No comment please."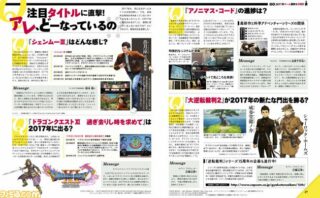 Here are some more:
Dragon Quest XI

Expect more information at Jump Festa 2017 on December 17. In 2017, we'll hear about party members, systems. etc.

5pb.'s Chiyomaru Shikura: A winter release is a little dangerous.

The Great Ace Attorney 2

Development is progressing.

Musou Stars

Koei Tecmo PR: Just who could this silhouette be of? (Referring to an Opoona-like silhouette in the magazine. Look below.)

Level-5's Akihiro Hino: With Snack World, we're enthusiastic about creating a boom that surpasses Yo-kai Watch.

The Idolmaster and Cinderella Girls

The Idolmaster Producer Youzou Sakagami: A countrywide tour, and new songs for The Idolmaster: Cinderella Girls Starlight Stage and The Idolmaster: Cinderella Girls Viewing Revolution are planned.

Hori 40th Anniversary

We're not planning any commemoration goods or peripherals.
The same feature includes the earlier posted tidbits about Shenmue III and Final Fantasy's 30th anniversary.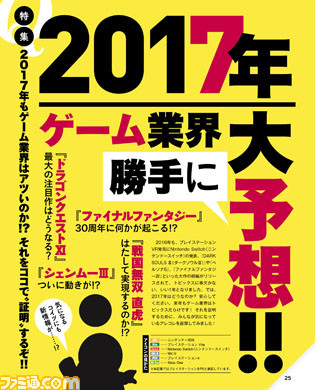 Thanks, Famitsu and Hachima Kikou, and [email protected].