Yakuza 0 'Nightlife of 1980s Japan' trailer
Visit the karaoke bar, or perhaps the catfight club.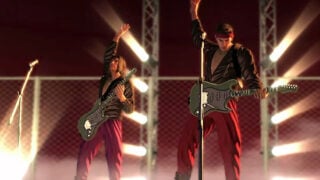 Sega has released a new trailer for Yakuza 0 introducing the nightlife of 1980s Japan.
Here's an overview, via Sega:
Alluring flashing lights and neon signs adorn the numerous entertainment establishments that line the streets of the redlight districts of Kamurocho and Sotenbori. Feel like putting on a white suit and dancing the night away? Pop into the disco club Maharaja and tear up the dance floor. Trying to belt out some beautiful Japanese 80s power ballads? Visit Heroine Karaoke Bar and sing your heart out. More of a sports person? Hit up a batting cage or place a bet at the Japan Catfight Club. Want to try out some of the latest and greatest in video gaming? Visit the SEGA HI-TECH LAND arcade to play some retro, I mean "cutting edge," games like Super Hang On, Out Run, and Space Harrier. No matter what you're feeling, there's no shortage of fun and distractions in Yakuza 0!
Yakuza 0 will be playable at PlayStation Experience 2016 from December 3 to 4 alongside other Sega titles Hatsune Miku: Project DIVA Future Tone and Sonic Mania.
Yakuza 0 will launch for PlayStation 4 in the Americas and Europe on January 24, 2017. In the Americas, pre-orders will be upgraded to a special Business Edition.
Watch the trailer below.