Yo-kai Watch 3: Sukiyaki announced
Third version of third game due out alongside third movie.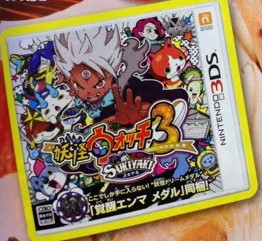 Yo-kai Watch 3 launched for 3DS in Japan in Sushi and Tempura versions back in July, but a third version called Yo-kai Watch 3: Sukiyaki will launch in Japan on December 15, the latest issue of CoroCoro Comic reveals. The physical version will include the "Kakusei Enma Medal" as a special bonus.
The magazine highlights three new elements in Sukiyaki:
Set off on a Great Adventure with Blasters T – An evolution of Yo-kai Watch Blasters where players will seek out hidden treasures in dungeons, take on giant boss battles, and so on.
"God Yo-kai" Appear by Linking Versions – If you link together the three versions of Yo-kai Watch 3, four "God Yo-kai" will appear. Yo-kai Watch 3: Sushi and Tempura will be updated to support this feature when Yo-kai Watch 3: Sukiyaki launches on December 15.
A Story Linked to Yo-kai Watch Movie #3 – Befriend Koalanyan, the key Yo-kai of the December 17-due movie, Yo-kai Watch The Movie: The Flying Whale and the Grand Adventure of the Double Worlds, Meow! A graphic novel world will also appear in doing the linked quests.
Thanks, Games Talk.