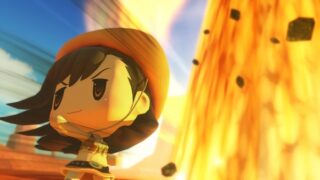 Square Enix has released new information and screenshots of World of Final Fantasy, introducing Final Fantasy legend characters Snow, Rydia, and Tifa, as well as the Heart Quest sub stories.
Get the information below.
■ Final Fantasy Legend Characters

Snow (voiced by Daisuke Ono)

A hot-blooded and good young man. He's not a soldier or anything like that, but rather a small-town jack-of-all-trades who helps those in need.

Shiva Ixion

A special Mirage summoned by Snow. An Ixion-type Shiva who uses ice powers.

Saver Summon Snow: "Ruler Fist"

"Ruler Fist" is a powerful cooperative attack between Snow and Shiva Ixion that puts the enemy down in ice. It deals ice-based damage to all enemies while ignoring their defenses, as well as boosts the physical defense of allies.

Rydia (voiced by Noriko Shitaya)

One of the Summoners of the Mist Dragon. She meets the protagonists while looking into the Scarlet Prophecy Book, which contains a distorted view of history.

Tifa (voiced by Ayumi Ito)

A woman skilled in the martial arts. Although she can be a bit reckless, she has a good heart and protects the protagonists, who are strangers to her, from a dangerous Mirage.

Saver Summon Tifa: "Final Seven"

A punch strong enough to shoot up the ground. It deals physical damage to a single enemy while ignoring their defenses, as well as boosts the physical attack power of allies.

■ Characters

Girl Who Forgot Her Name (voiced by Aya Hirano)

A girl with a mysterious atmosphere who speaks very little. As the manager for Heart Quests, she hires out Lann and Reynn.

■ World Introduction

Babil Area

An area where dark clouds loom. What's that building in the distance?…

Nibelheim

A town lit up with neon. Tifa can be seen here.

Mako Reactor 0

A Mako Reactor, where machines are in operation. Make effective use of your electric shock support ability to get through it.

■ Heart Quests

Heart Quests are sub stories related to Final Fantasy legend characters.

The Girl's Room

The Girl's Room is a special place. It is a room of total darkness with a unique, big clock. Here, you'll accept Heart Quests from the girl who forgot her name.

During Heart Quests, you'll witness the sub stories of Final Fantasy legend characters while helping them out. Stars represent their degree of difficulty, and clearing the quests may earn you rewards. To accept quests, you'll need special items called "Alma Gems."

These quests will contain stories that both people familiar and not familiar with the Final Fantasy series can enjoy. There is some unexpected dialogue between characters, as well.

■ Arena

At the Arena, you can have battles with friends, as well as trade Mirages and battle against Mirages you've previously encountered in the game.

■ Mirages

10 new Mirages are also introduced, including:

Moo (S-size)
Water Frog (S-size)
Carbuncle (S-size)
Flan (M-size)
Duo Lizard (M-size)
Searcher (S-size)
Magitek Armor (L-size)
Maduin (L-size)
Titan (L-size)
Tiamat (L-size)
World of Final Fantasy is due out for PlayStation 4 and PS Vita on October 25 in North America, October 27 in Japan, and October 28 in Europe.
View the screenshots at the gallery.
Thanks, Games Talk.