Summer Lesson details game flow
PlayStation VR-exclusive due out at launch in Japan.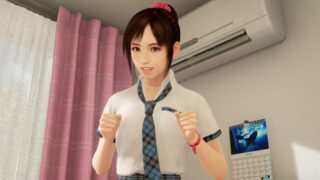 Bandai Namco has shared new information and screenshots of Summer Lesson: Hikari Miyamoto Seven Days Room (Basic Game Pack) ahead of its release next Thursday, October 13 in Japan.
The PlayStation VR-exclusive game will be released as a digital download for 2,980 yen. Post-release, Bandai Namco plans to release various new situations, such as going outside with Hikari or seeing fireworks together.
Get the new information below.
■ The Player

As her tutor, the player is responsible for Hikari Miyamoto, a student who receives poor grades. In preparation for a test at the end of summer vacation, you'll spend the last week of summer visiting her house…

■ Hikari Miyamoto

Hikari Miyamoto is a bright and energetic girl who doesn't think about things too in-depth. But now she's in a bit of a pinch! She is a lovable girl who works hard with her friends when it comes to club activities, but seems to be a regular in the tutoring of various subjects at school. Her parents, irritated, call a tutor and tell their daughter, "If your grades on the end of summer vacation test aren't good, you're putting a stop to your club activities!!" Can you help raise Hikari's grades high enough so that she passes the test?

■ Seven Days

For a period of seven days, players will visit Hikari and do lessons. If the outcome of your lessons bear fruit, the results of Hikari's end of summer test will change. That means, depending on the amount that Hikari grows in ability over that seven day period, the ending of the game will change.

■ A Common Day

Each day, the player (tutor) starts out sitting at the cafe. Rather than a workplace, the player (tutor) is a regular at a cafe that doesn't get many visitors. This is a new room that wasn't present in previous technical demonstrations of Summer Lesson.

On the desk before you are your various work tools. These act as the menu screen itself. You can choose the controller layout most comfortable for you and open the screens you want to open.

Morning

Prepare for your lessons while thinking about the abilities you want to improve as you head towards the end of the week. You should consider your course of choice since the abilities that improve change based on what you select. As her tutor, the player's goal is bring out five abilities from Hikari: "willpower," "inspiration," "insight," "inner happiness," and "quick thinking."

At first, there will only be three courses available ("reading comprehension," "logical thinking," and "memorization"), but more will unlock as you continue to play. Use your best judgment as a tutor to select which one you'll do for the day!

10:00 – Lesson Begins

At 10:00, your lesson with Hikari will begin.

The contents of the lesson varies depending on the course you chose when you were preparing at the cafe. During the lesson, the player can choose how they plan to observe Hikari's studies. You can observe her in quiet, cheer her on, or do some quick drills. If you can guide her in a way that matches the chosen course, she may be able to bring out greater ability.

Be sure to observe Hikari in her various states of study for each course. If you choose the "memorization" course during lesson preparation, Hikari will put her efforts in studying flash cards.

15:00 – Break Time

After five hours of study, Hikari will need a break. During this time, you can watch Hikari as she passes the time, as well as bring up topics to talk about. Perhaps some sort of lucky event will also occur and you'll be able to enjoy an even greater virtual reality character experience.

Hikari may pass the time on her smartphone. Maybe you can bring your face closer to Hikari's and peek at the screen?

You can also look at the lesson results summary, which is displayed as the tutor's log rather than as a 2D screen. Lesson results vary depending on how well the chosen course and method of guidance go together.

If you choose to talk to Hikari, you can pick from subjects such as her friends, the lesson, and her activities.

17:00 – Check Your Lesson Results

When the lesson comes to an end, you'll leave Hikari for the day and return to the cafe to check how much she's grown for the day.

The same basic flow repeats the next day. The extent that Hikari grows depends on you, the tutor!
View the screenshots at the gallery.