Mary Skelter details skill expansion, level degeneration, and quests
Four new screenshots also released.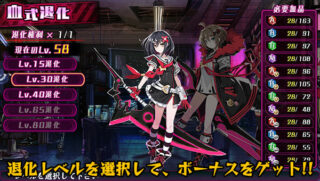 Compile Heart has updated the Divine Prison Tower: Mary Skelter official website with new details about the game's systems, including skill expansion, level degeneration, and quests.
Get the details below.
Expand Your Skill Inventory

Players will be able to set the skills that are available to them for use during combat. Within those settings, you can also increase the number of skills you're able to set through "Skill Inventory Expansion." Skill Inventory Expansion can be done by spending the "Blood Crystals" you obtain in battle.

Chishiki Degeneration

At the base (The Liberation District), players can lower the levels of the Chishiki Girls and reforge them through "Chishiki Degeneration." Players can select the levels dropped through Chishiki Degeneration, and depending on the levels selected, you can get CP bonuses to use for stat boosts and skill acquisitions.

At the base (The Liberation District), within "Solar Headquarters," various requests from the powerless people of the district are gathered. These requests are things that can only be achieved by the player while going around each dungeon. By completing these quests, you can obtain a variety of items.
If you missed them, previous updates detailed weapon upgrades, The Solar Order, Job System, the Jail and Confinement Areas, the Liberation District, Dawn Liberation Front, the Chishiki Girls, Blood Skelter mode, the protagonist's actions, the three major desires, the basics of battle, Nightmare Battles, characters Princess Kaguya and Rapunzel, Thumbelina, Snow White, and Sleeping Beauty, as well as the setting, and characters Jack, Alice, and Little Red Riding Hood.
Divine Prison Tower: Mary Skelter is due out in Japan on October 13.
View a new set of screenshots at the gallery.