Quake Champions debut gameplay trailer, screenshots
Closed beta set for 2017.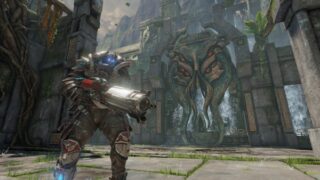 Bethesda Softworks and id Software released the debut gameplay trailer for Quake Champions, its competitive, arena-style shooter for PC first announced at E3 2016, during its QuakeCon 2016 opening ceremony.
The trailer offers a first look at the game's "Champions" (characters), including both new characters and franchise favorites.
Quaker Arena will offer players an arsenal of powerful and unique weapons, with no loadouts and no limit to the amount of guns you can carry. The game itself can run at up to 120 hertz with unlocked framerate.
A closed beta is planned for 2017.
Watch the trailer below. View the first screenshots at the gallery.