Gust opens Beautiful Girls Festival Project #3 teaser website
Get your free fetish diagnosis now.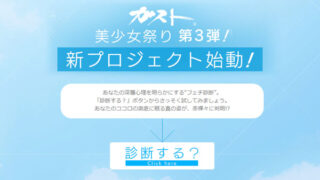 Gust has opened the teaser website for the third project part of its three-game "Beautiful Girls Festival."
The website features a "Fetish Diagnosis" test that will reveal the true nature sleeping in the depths of your heart. It asks questions like your favorite weather, your handedness, the first place you notice on the opposite sex, a challenge you'd like to take on, etc. You'll then be told your fetish. (I got collarbone.)
More importantly though, getting through the quiz reveals that we'll hear more about this project in the August 25-due issues of Weekly Famitsu and Dengeki PlayStation.
If you missed it, read what we know about Beautiful Girls Festival Project #2 here. Beautiful Girls Festival Project #1 is Atelier Firis: The Alchemist of the Mysterious Journey.