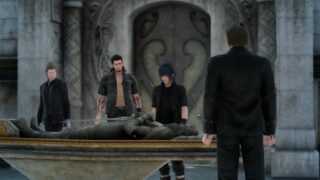 Final Fantasy XV director Hajime Tabata confirmed new details about the upcoming RPG in a new interview with Famitsu.
First, Tabata said that the six currently announced downloadable add-ons, which are part of the Final Fantasy XV Season Pass, won't make up the entirety of the game's downloadable content.
"That's not everything," Tabata said. "Those are what we've announced today, something we've decided that we'll certainly do."
Famitsu followed up asking if any new downloadable content would require an additional purchase outside the Season Pass.
Tabata answered, "If we decide to make downloadable content outside of the Season Pass we're currently selling, then that will be the case. Although there's a lot right now that isn't clear."
Famitsu then asked if they plan to add costume downloadable content.
"Of course," Tabata responded. "But not just costumes, we also plan to increase the cooking repertoire. Although right now the top priority is polishing the main game. Once we can be finished with that, I think we can get up to speed on downloadable content and VR content. And by the way, the VR content is different from the 'Episode' downloadable content we announced with the Season Pass."
Tabata further clarified the "Episode Prompto" add-on part of the Season Pass is different from the PlayStation VR demo showcased at E3, which starred Prompto.
Finally, Tabata also discussed a bit about the game's structure.
"For Final Fantasy XV, we've put in both open world parts and linear parts to make up the game's full structure," Tabata said. "The first half is a continuous open world, but the second half is story-driven and progresses linearly. By doing this, the entire game is tightened so that the open world doesn't get tiring, and so that you can also get a taste of traditional Final Fantasy progression. If we assume you'll play only the main routes of the first and second halves, it'll take about 40 to 50 hours."
Final Fantasy XV is due out for PlayStation 4 and Xbox One on November 29.