Crows: Burning Edge details story modes, battle system
PlayStation 4 brawler due out October 27 in Japan.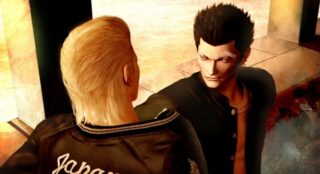 Bandai Namco has released new information and screenshots of Crows: Burning Edge, introducing the game's Story and Another Story modes, as well as the game's battle system.
■ Story Mode

Starting with the protagonist, Suzuaran All-Boys High School student Harumichi Bouya, experience the story from the perspectives of each of the Big Four of Toarushi, where the game is set.

—The story will develop in chapters. There are also voiced cutscenes that pay homage the original manga.

—Places in Toarushi, where Crows is set, will reappear in the game, starting with Suzuran High School.

■ Another Story Mode

Masamune Akagi is a first-year student who transfers schools from Kennan to Suzuran. While running along the time line of the original work, another event occurs that runs in parallel. This is the original story of "Another Crow," written by Crows creator Takeshi Hiroshi.

■ Battle System Introduction

Battle Tactics

There are three general battle tactics: "Hit," "Grab," and "Defend." Going into a hit from a defend, a defend from a grab, and a grab from a hit are all effective methods of fighting.

—Hit

—Grab

—Defend

Attack Style

—Balance Type (Harumichi Bouya's Default)

A good balance between attack power and speed, with techniques that are easy to use in any situation.

—Speed Type (Ryuushin Kunou's Default)

Fast in speed, but low in single-hit damage. Best suited for group fights.

—Power Type (Bulldog's Default)

Slow in attack speed, but high in power. Best used in a one-on-one fight.

—Tricky Type (Tatsuya Bitou's Default)

Enjoy an ever-changing battle with a mix of punch and kick attacks.

Burning Mode

As you attack, defend, and take damage, your Burning Gauge will increase. When the Burning Gauge reaches its max, you can activate Burning Mode. In this state, not only does your attack power and speed increase, you can also use Burning Combos, as well as character-specific special moves.

■ First-Print Bonus

First-print copies of Crows: Burning Edge include a short episode featuring Guriko Hanaki, who is connected to Worst. And it comes with character-themed, exclusive customization items.
Crows: Burning Edge is due out for PlayStation 4 on October 27 in Japan.
View the screenshots at the gallery.