Wondership Q now available for PC via Steam
2D sandbox action RPG now available.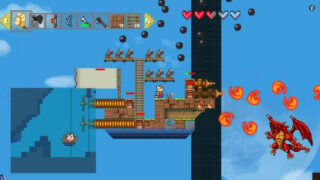 Wondership Q, Miracle Positive's 2D action RPG with sandbox elements known as Airship Q on PS Vita, is now available for PC via Steam for $9.99.
Here's an overview, via Miracle Positive:
About

Wondership Q, released as Airship Q for PS Vita, is a 2D action RPG with sandbox elements.

You play as the protagonist of this story who's suddenly been turned into a cat by a witch. Not only that, but now it's your job to save your kidnapped brother. Fly through the air on your very own airship, solve mysteries, and craft until your heart's content!

Background

Development of Wondership Q started with just 3 people full of passion. Thanks to the support of many, this game gained successful crowd-funding at a service called Makuake in 2013, and from there it just kept growing and growing. Get ready to take yourself on an amazing adventure!

Features

Craft, Craft, Craft Away! – 
Creativity and an awesome airship is the key to exploring and surviving in this vast world.
Great Tutorials Through the Game – 
Easy to play with helpful advice from your brother Lemuel.
Use the Natural World to Your Advantage 
- Rain falls, water flows, plants grow, and fire burns… Use your knowledge of the natural world.
Create Your Own Worlds! – Not only is there an RPG-like story mode, there is also a world creation mode where you can create your very own stages. Then, place start and goal flags in the world you've created in challenge mode! See if you can defeat your own imagination.