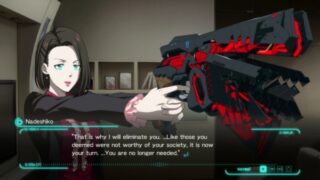 NIS America has released a new trailer for its upcoming visual novel Psycho-Pass: Mandatory Happiness, guiding viewers through the series' dystopian world. It can be viewed at the game's official website.
Additionally, a new set of English screenshots were also released. View the batch of eight images at the gallery.
NIS America also announced that all copies of Psycho-Pass: Mandatory Happiness will includes the first two episodes of the first season of the anime series, redeemable via PlayStation Network users with a U.S. account.
Psycho-Pass: Mandatory Happiness is due out both physically and digitally for PlayStation 4 and PS Vita on September 16 in North America and September 13 in Europe. A PC version is also due out via Steam, but a release date has yet to be announced.