Mary Skelter 'Mad Nightmare' trailer; Blood Skelter Mode, protagonist actions, and three desires details
The latest on Compile Heart's PS Vita dungeon RPG.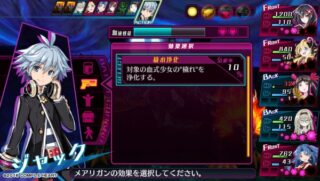 Compile Heart has updated the official website for Divine Prison Tower: Mary Skelter with a new trailer, screenshots, and information.
The PS Vita dungeon RPG is due out in Japan on October 13.
Get the trailer and details below. View the screenshots at the gallery.
■ Blood Skelter Mode

Whenever the girls of the Chishiki Girls Squad take heavy damage or become unable to fight and the like in battle, their spirits will become uneasy and they'll accumulate "impurity."

When impurity is accumulated, rather than Genocide Mode, which is triggered by the girl continually getting sprayed with blood, the girl will be swallowed by madness and enter "Blood Skelter Mode."

In this state, the character does not listen to the player's instructions. The girl has gone mad and will exert her power regardless of whether it's against friend or foe. To return her to her original state, you need the power of the Mary Gun.

Whether or not this transformation is "good" or "evil" is a judgment best left to the player.

■ The Protagonist in Battle

Mary Gun

In battle, Jack uses the "Mary Gun," which shoots his own blood, to support the Chishiki Girls.

The blood shot at the Chishiki Girls will purify the impurity that builds up on their bodies. As you develop the Mary Gun, it will prove more advantageous in battle with increased abilities.

Jack's blood decreases each time you use the Mary Gun. If you try to use the gun when you're low on blood, you may end up "fainting." If you feel like you're low on blood, you can try to increase your amount of blood with Jack's "Blood Formation" command.

Fainting

In addition to the Mary Gun, Jack can also support the Chishiki Girls by acting as their shield. However, this action will put Jack into a "fainted" state.

In the fainted state, Jack can't take action for a set amount of turns, and if Jack faints "a specific number of times" in battle, he won't be able to recover for remainder of that fight.

■ The Big Three Desires

In Detail

In order to grow, the living prison known as "Jail" is always hungry for the big three desires of "appetite," "sexual desire," and "desire to sleep."

You can satisfy these desires in both battle and while exploring dungeons, and by satisfying a desire to the maximum amount, you can obtain a whimsical "Jail Bonus" from the prison.

Whether you satisfy or do not satisfy the big three desires is up to you. However, if you use these desires skillfully, you can discover new paths and overturn the course of battle.

—Appetite

You can satisfy appetite with the blood of Marchen. During battle, a large amount of blood will spurt out from the enemy Marchen.

—Sexual Desire

In dungeons, you'll find "Emotion Points"—Jail's erogenous zones—that you can stimulate sexually by touching. Additionally, you can stimulate the prison by examining "treasure chests" and "collection points" in dungeons, or by "licking" blood in battle.

—Desire for Sleep

During your adventure, Jail can become suddenly sleepy and enter "Jail Sleep Time." During this sleep, Jail's desire for sleep is automatically satisfied.

However! During sleep, players will take on greater damage, and if someone in the party makes a mistake such as becoming unable to battle, the sleep will be disturbed and Jail's desire for sleep will decrease.

Play with caution and bring about a sound sleep for the living prison.

Jail Bonus

Satisfying Jail's desires will trigger a roulette that will let players obtain a bonus.

The contents of the Jail Bonus changes based on whether you're exploring the dungeon or in battle. From status recovery to an increased rare item drop rate, to the generation of a "new floor" in the dungeon, there are also special bonuses.

Satisfy the three big desires to get various bonuses.
If you missed them, previous updates detailed the basics of battle, Nightmare Battles, characters Princess Kaguya and Rapunzel, Thumbelina, Snow White, and Sleeping Beauty, as well as the setting, and characters Jack, Alice, and Little Red Riding Hood.