Hatsune Miku: Project DIVA Future Tone details Main Menu, Music Selector, Practice, and Photography
PlayStation 4 rhythm game due out later this month in Japan.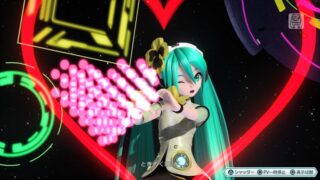 Sega has detailed some of the basic features of Hatsune Miku: Project DIVA Future Tone for PlayStation 4, including the main menu, music selector, practice, and photography elements.
Get the details below.
■ Main Menu

This is the main menu, through which you can access the rhythm game and PV appreciation. Playable songs, including the two free in "Prelude," the 127 paid in "Future Sound," and the 95 paid in "Colorful Tone," total at 224. By purchasing these add-on packs, it becomes possible to play the songs within them.

The main menu includes the following options:

Rhythm Game – Play the rhythm game, music PV appreciation.
Customize – Modules, hairdo, customize items purchase and configuration, game control settings, etc.
Gallery – Personal score, achievement rate results, online total ranking, etc.
PlayStation Store – Purchase additional content through the network.
Options – Sound settings, display settings, etc.

■ Music Selector

By selecting "Rhythm Game" from the main menu, you're brought to the music selector. Here, you can select a song and difficulty to play. The music list features all sorts of icons to check, including difficulty, slide controls on/off, the number of characters in the case of several, past achievement rate results, etc.

There are five degrees of difficulty: "Easy," "Normal," "Hard," "Extreme," and "Extra Extreme." The latter two difficulties are only unlocked by clearing "Hard" difficulty. There are some songs that don't have "Easy" and "Normal" difficulties.

■ Practice

By selecting "Practice Start" from the music selector, you can repeatedly practice any part within the a song.

Through "Start Time Configuration," you can freely configure the starting position of the song. You can also adjust the song's starting position during gameplay, as well as restart the tempo at the press of a button.

■ PV Appreciation and Photographing

Through "PV Appreciation," you can enjoy the game's music videos. In addition to PlayStation 4's Share capabilities, there is also an exclusive photographing function that lets you press the triangle button to take a photo during the music video. The photographs you take can be used as loading screen backgrounds for the game, as well as viewed and shared from PlayStation 4's Capture Gallery.
The PlayStation 4 rhythm game is due out via the PlayStation Store in Japan on June 23. A free "Prelude" version containing two songs can be downloaded, and the "Future Sound" (focused on the Hatsune Miku: Project DIVA and Project DIVA F series) and "Colorful Tone" (focused on the Project Mirai series and Project DIVA Arcade) paid add-on packs will add over 220 songs and 340 modules to the game.
View a new set of screenshots at the gallery.