Tokyo Mirage Sessions #FE limited edition announced for the west
Special Edition for North America, Fortissimo Edition for Europe.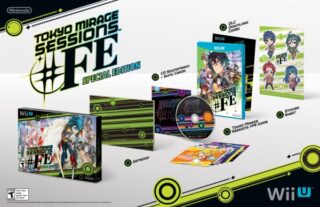 Nintendo has announced a North American and European limited edition for Tokyo Mirage Sessions #FE, its stylish Wii U RPG from Atlus inspired by the Fire Emblem and Shin Megami Tensei series.
Dubbed the "Special Edition" in North America ($79.99, GameStop and Amazon-only) and "Fortissimo Edition" in Europe, the limited edition includes:
A copy of Tokyo Mirage Sessions #FE for Wii U
Special box
5×8 color art book
Six-song soundtrack CD and song cards
Sticker sheet
Download codes for all five sets of planned downloadable content – all will be released at launch and cost $1.99 separately
Tokyo Mirage Sessions #FE will be playable at PAX East in Boston this weekend. It is due out across North America and Europe on June 24.
View high-res images of the limited edition at the gallery.