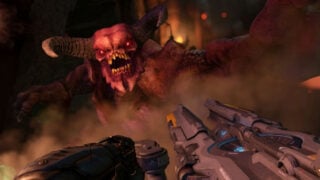 An open multiplayer beta for DOOM will run from April 15 through April 18 across PlayStation 4, Xbox One, and PC, Bethesda Softworks announced. It will feature the "Team Deathmatch" and "Warpath" modes on the "Heatwave" and "Infernal" maps.
Bethesda Softworks also announced the first of three premium multiplayer add-ons that will be released following DOOM's launch. These will include "a number of new maps, hack modules, playable demons, weapons, and more." Each add-on will cost $14.99 / £11.99 / €14.99, and a Season Pass containing all three will be available for $39.99 / £29.99 / €39.99.
The first add-on will include:
Three new maps
One new weapon
One new playable demon
One new armor set
One new piece of equipment
New hack modules and taunts
New customization colors and patterns
DOOM is due out for PlayStation 4, Xbox One, and PC worldwide on May 13.
Thanks, GameSpot.