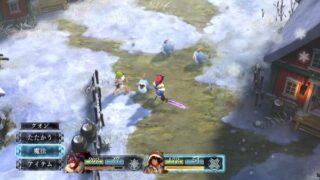 Square Enix will localize its Tokyo RPG Factory-developed I Am Setsuna (titled Ikenie to Yuki no Setsuna in Japan) for PlayStation 4 and PC in North America and Europe this summer.
The RPG launched last month in Japan as a PlayStation 4 and PS Vita retail and digital title.
I Am Setsuna has a Chrono Trigger-inspired battle system and brings back the "authentic RPG gameplay, beautiful art design, and sorrowful story" of the classic Japanese RPGs to the current generation. It is led by director Atsushi Hashimoto and promises the "narrative depth, impactful storytelling, and masterful character development" of yesteryear.
View a set of screenshots at the gallery. Visit the teaser website here.