Dragon Quest Monsters: Joker 3 introduces Great Riders Cup
Choose a monster to ride and catch slimes.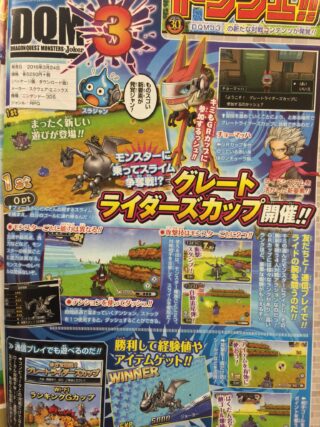 The latest issue of Jump magazine has details on the "Great Riders Cup" multiplayer element for Dragon Quest Monsters: Joker 3 first teased yesterday.
The "Great Riders Cup" takes advantage of the game's "Ride System" and sees up to four players battle riding a monster of their choice. You can play against the computer, as well as locally or via Wi-Fi with friends. You'll score points by catching slimes out in the field and bringing them back to your goal, and the player with the most points will win. There are various ranks in the Great Riders Cup and the higher your rank, the more extravagant the reward.
Each monster species' acceleration, maximum speed, horse-power, and such differs, and each has two attack techniques. Its level has no connection. Additionally, you can dash by consuming a tension gauge that builds up over time, and there are also shields and bomb items that defend against attacks.
Dragon Quest Monsters: Joker 3 is due out for 3DS in Japan on March 24.
Thanks, @kazu4281.