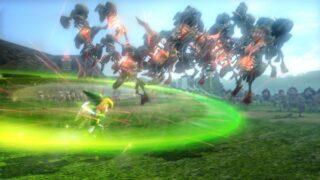 Koei Tecmo has released first details and screenshots of its newly announced Hyrule Warriors Legends Toon Link character, Wind Waker scenario, Hammer item, and Ocarina Warp system.
Get the information below.
New Character: Toon Link

Joining Tetra and the King of Hyrule from The Legend of Zelda: The Wind Waker in Hyrule Warriors Legends is Toon Link.

Toon Link wields a one-handed sword in battle, which he uses to freely attack enemies as he quickly moves around the battlefield. He can jump high, and from the air draw out his Deku Leaf or slam his sword.

By purchasing Hyrule Warriors Legends for 3DS, you'll also be able to use Toon Link in Hyrule Warriors for Wii U.

New Scenario: Wind Waker

There will be a new story based on The Legend of Zelda: The Wind Waker. Look forward to seeing how all of these characters like Link, Tetra, and the King of Hyrule are interwoven in the story.

Of course, there will be a new stage that reproduces the world of The Legend of Zelda: The Wind Waker. You'll find homages to the game all throughout the map.

The Legend of Zelda: The Wind Waker's Helmaroc King will also appear as an enemy. His sharp beak attacks are powerful enough to gouge the ground. Countering these attacks will be your key to victory.

New Item: Hammer

The Hammer will appear as a new item. Slam it down with all of your might to stun surrounding enemies. And it's not only useful for attacks—you might also need it to solve some of the stage's gimmicks.

New System: Ocarina Warp

The familiar Ocarina item from The Legend of Zelda appears as a new item in Hyrule Warriors Legends.

When you play the Ocarina, a tornado springs forth, and you can warp to one of the Owl Statues scattered throughout the battlefield. Depending on the situation, and combining this element with the "Player Change" system, it allows for greater strategy in battle.
View the 3DS screenshots here and Wii U screenshots here.