Omega Labyrinth first details, screenshots
Beauty is in the heart, which is in the chest.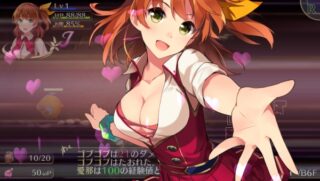 D3 Publisher has released first details and direct-feed screenshots for Omega Labyrinth, its recently announced dungeon RPG about the journey for a bigger chest from Matrix Software.
Get the information below.
■ Prologue

The Anberyl Girls Academy, where a garden of young girls are growing to become beautiful women in both body and mind. At this school, a mysterious rumor surfaced. Somewhere hidden in the school is something called the "Holy Grail of Beauty," which is said to be able to grant any wish.

Among the schoolgirls brimming with curiosity, the rumor continued spreading. The Holy Grail's hiding place is said to be a cave there since ancient times. The cave, which is usually off-limits, is opened only on the anniversary of the school's founding… and…

Today, November 8, is the anniversary of the founding of Anberyl Girls Academy.

And somehow or another, it seems that this year students have come along in search of the Holy Grail of Beauty.

Her wish: to increase her chest size, which is smaller than the other girls', in a big way…

But will she really be able to find the Holy Grail and have her small wish granted?

■ Characters

Aina Akemiya (voiced by Haruka Yamazaki)

The lively and ever-positive protagonist. Obsessed with increasing the size of her small breasts, she goes dungeon diving in search of the "Holy Grail of Beauty," which is said to grant any wish. She may not be an honor student, but she's popular enough that she's often the center of attention. That said, rather than jumping into the spotlight of her own volition, she's more the type of person who just can't say no when someone asks her a favor.

She may have small breasts, but her captivating butt makes up for it! (According to her.)

Nako Mitou (voiced by Aya Uchida)

A skillful cook and Aina's best friend. She has a voluptous chest compared to Aina. Aina wonders if all the nutrients she takes in aren't going straight to her chest. The pair do a lot together and often find themselves in trouble. This time, too, Aina invites her to challenge a dungeon, but they get separated almost immediately…

Sairi Sousha (voiced by MAO)

A quarter-Russian girl who adores her senpai Aina. Her polite speech gives her a low key vibe. Aina gets her, like Nako, to challenge the dungeon with her. She wears a long scarf that Aina gave her because she's "nimble like a ninja." Sairi can see why Aina would think that and isn't unpleased. Like Aina, she worries about her small chest, but for some reason, it feels tight…

Pai (voiced by Emi Uema)

A lovable fairy who loves boobs and likes to hang out in cleavage. She's not particularly good or evil, and is always optimistic. Aina saves her from a monster attack, so she gets attached to her. She tells the heroines the story about the cave and the Holy Grail as far as she understands it. She uses incorrect honorific expressions, and is bad with words that bring out her lisp.

Each time Aina and friends enter the dungeon, its map, monsters, and items will change. As players move within the dungeon, monsters will also move in turn-based fashiion. By defeating monsters, you'll accumulate experience points, and your characters will become stronger as they level up. If you leave the dungeon, you'll return to Level 1, and if your health becomes zero, all of the items you have will be lost. Your goal is to enter the dungeon and utilize your weapons, armor, and items, defeating monsters and avoiding traps in search of the Holy Grail of Beauty.

"Dungeon Auto-Creation," "Starting Each Time at Level 1," "Losing All Items When You Die," and "Hunger Levels" all come together to make this an orthodox roguelike RPG.

■ Challenge the Dungeon With A Partner

When heading to the dungeon, you'll choose one partner character to take along with the leader. (You can also go in alone.) Of course, you can equip your partner with weapons and armor, and provide them tactical instruction in battle. Fighting alongside a partner can be more advantageous, however, since failing the dungeon means their equipment will also be lost, caution is recommended.

■ Omega Power

By defeating monsters in the dungeon, you'll accumulate "Omega Power"—the embodiment of womanly strength, stored in your chest—in addition to experience points. By accumulating Omega Power, your chest size will steadily increase. If the small-chested Aina accumulates enough Omega Power, she can achieve the surprising chest of her dreams. Moreover, if your cup size goes up, your status will also power up. If you reach the maximum size chest, you'll enter "Hatsumune Mode" (Releasing Chest Mode), largely powering up your status while on that dungeon floor. When you leave the dungeon, your chest will go back to its original size, but the Omega Power you accumulate in the dungeon can then be used to purchase and appraise items.

■ Oppai Appraisal

The items you obtain in the dungeon will appear as "Unidentified Crystals"—their name and effects are not known. In order to reveal these items, you can appraise them by using Omega Power. To do this, you place the crystallized item between your character's breasts and shake. If you stimulate the crystal enough, filling it with Omega Power, the item will steadily expand. Shake it to its limit and the item will be revealed. You can select any character to use for these appraisals, so choose your favorite. If you don't want to go about the appraisal scene, it's also possible to skip it.

■ Faint in Agony Awakening

Through the "Faint in Agony Awakening" system, you can strengthen your initial status and acquire new skills. By using a "Faint in Agony Aroma" item brought back from a dungeon, you can make one of the girl characters go into an "excited" state and have various delusions. By touching her during this delusion, her Omega Power and status will increase. Sensitive spots that further increase Omega Power differ by character and situation.

If you keep increasing the girl's level of excitement, you could trigger "Faint in Agony Mode," which makes her entire body a sensitive spot. By using a specific item in this mode, you can also trigger a "Shyness Break" that'll display an even more revealing figure.

■ Theme Song

The theme song is called "Omega Labyrinth ~ohπr2 no Housouku." It's sung by DelightStyle, features lyrics and composition by Yoffy, and is arranged by Masaki Mashimo.

■ First-Print Bonus

First-print run copies of the game include the "Lightning Malance" weapon and "Butt Shield" armor. Even if you lose this equipment by dying in the dungeon, you'll be able to repurchase them in the game.
Omega Labryinth is due out for PS Vita in Japan on November 19.
View the screenshots at the gallery.