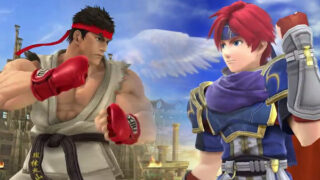 Update: Over an hour of footage showcasing the characters has come out.
Original: The next playable characters joining Super Smash Bros. for Wii U and for Nintendo 3DS as downloadable content are Fire Emblem's Roy and Street Fighter's Ryu, it's been leaked.
Victory videos for Roy and Ryu have appeared online, reportedly extracted from a patch added early to the game's Japanese server.
Also leaked with the new characters are a Splatoon Inkling Girl trophy, and the stages "Dreamland 64" and Ryu's stage from Street Fighter II. Rhythm Heaven music tracks "Blue Bird" and "Monkey Watch" are also en route.
Here's a look at the Splatoon trophy:
Nintendo is hosting a Super Smash Bros. "New Content Approaching" live stream tomorrow morning, where it is expected to make these leaks official.
Thanks, NeoGAF.