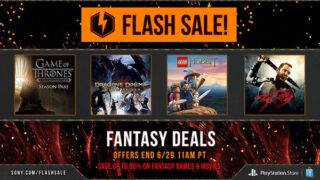 Sony Computer Entertainment America is holding a "Fantasy"-themed PlayStation Network flash sale this weekend, and it includes games like Tales of Xillia, Xillia 2, Graces F, Hearts R, Sword Art Online: Hollow Fragment, Dragon's Dogma: Dark Arisen, and more at big discounts.
The flash sale starts today and ends at 9:00 a.m. PT on Monday, June 29.
Get the full list of discounts below. Visit the sales page here.
| Game Title | Platform | Sale Price | Original Price |
| --- | --- | --- | --- |
| Bound by Flame | PS4 | $14.00 | $39.99 |
| CastleStorm Definitive Edition | PS4 | $5.25 | $14.99 |
| Game of Thrones – Season Pass | PS4 | $12.50 | $24.99 |
| Hand of Fate | PS4 | $8.00 | $19.99 |
| How to Survive: Storm Warning Edition | PS4 | $3.80 | $19.99 |
| LEGO The Hobbit | PS4 | $10.00 | $19.99 |
| Never Alone (Kisima Ingitchuna) | PS4 | $6.00 | $14.99 |
| Omega Quintet | PS4 | $24.00 | $59.99 |
| Rack N Ruin | PS4 | $4.50 | $14.99 |
| Road Not Taken | PS4 | $5.25 | $14.99 |
| Shadow Warrior | PS4 | $7.50 | $29.99 |
| Ziggurat | PS4 | $6.00 | $14.99 |
| Blood Knights | PS3 | $4.50 | $14.99 |
| Bound by Flame | PS3 | $10.50 | $29.99 |
| Brothers: A Tale Of Two Sons | PS3 | $3.75 | $14.99 |
| Dragon's Dogma: Dark Arisen | PS3 | $13.20 | $39.99 |
| Dungeons & Dragons: Chronicles of Mystara | PS3 | $4.50 | $14.99 |
| Game of Thrones – Season Pass | PS3 | $12.50 | $24.99 |
| LEGO The Lord of the Rings | PS3 | $5.00 | $19.99 |
| Might & Magic Duel of Champions Forgotten Wars | PS3 | $3.50 | $9.99 |
| Of Orcs and Men | PS3 | $5.00 | $19.99 |
| Risen 3: Titan Lords | PS3 | $12.00 | $29.99 |
| Sacred 3 | PS3 | $12.00 | $29.99 |
| Tales of Graces f: Knight Edition | PS3 | $16.50 | $54.99 |
| Tales of Xillia 2 | PS3 | $14.00 | $39.99 |
| Tales of Xillia | PS3 | $9.00 | $29.99 |
| Vandal Hearts: Flames of Judgment | PS3 | $3.00 | $14.99 |
| Bonk's Adventure | PS3/PSP | $1.20 | $5.99 |
| Dungeon Explorer | PS3/PSP | $1.20 | $5.99 |
| New Adventure Island | PS3/PSP | $1.20 | $5.99 |
| Valkyria Chronicles 2 | PSP | $5.00 | $9.99 |
| Elminage Original | PSP/PS Vita | $3.75 | $14.99 |
| Fate/EXTRA | PSP/PS Vita | $6.99 | $9.99 |
| MYST | PSP/PS Vita | $2.40 | $11.99 |
| Warriors of the Lost Empire | PSP/PS Vita | $1.20 | $5.99 |
| Dungeon Hunter Alliance | PS Vita | $6.75 | $26.99 |
| Hyperdimension Neptunia ReBirth1 | PS Vita | $6.00 | $29.99 |
| Mind Zero | PS Vita | $10.00 | $24.99 |
| Monster Monpiece | PS Vita | $4.00 | $19.99 |
| New Little King's Story | PS Vita | $5.00 | $19.99 |
| Pocket RPG | PS Vita | $5.25 | $14.99 |
| Soul Sacrifice | PS Vita | $4.50 | $14.99 |
| Sword Art Online -Hollow Fragment- | PS Vita | $14.00 | $39.99 |
| Tales of Hearts R | PS Vita | $14.00 | $39.99 |