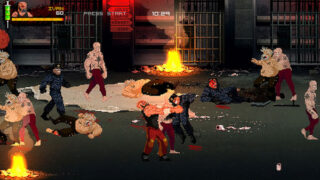 Devolver Digital announced a new lineup of titles it's bringing to PlayStation 4 and PS Vita during Sony's E3 2015 press conference this evening.
Get the lineup of games below.
Mother Russia Bleeds (PS4, 2016)

A four-player co-op (both online and offline) brawler and the debut game from Paris-based developer Le Cartel. It's set in an alternate USSR and sees four fighters with crippling drug addictions rise up against an oppressive crime regime.

Eitr (PS4, 2016)

An action RPG from developer Eneme Entertainment. It tells the tale of the Shield Maiden and her quest to rid of the great tree Yggdrasil of the wretched substance Eitr, and restore light to the nine realms it connects.

Hatoful Boyfriend: Holiday Star (PS4, PS Vita, 2015)

As previously announced, this is a remastered version of the holiday-themed sequel to Hatoful Boyfriend.

Ronin (PS4, PS Vita, Late 2015)

A turn-based action platformer from developer Tomasz Waclawek where players follow the exploits of a vengeful heroine determined to strike down five prominnent figures of a powerful corporation.

Crossing Souls (PS4, PS Vita)

An action-adventure game from Spanish-developer Fourattic about a group of neighborhood buddies that set out on a quest to save their town and our world from government conspirators and shadowy forces. Players will switch between five characters, each with their own unique attacks and abilities.